NTY3-150
NAKAMURA-TOME
Overlapping crossover stroke! State-of-the-art multi-tasking machine.
Opposed two-spindle,3-turret construction!
72 tools Number of tool stations
36 tools Number of driven-tool stations
±45mm : Y1 ' ±45mm : Y2 ' ±35mm : Y3 ' Y-axis on 3-turret
6000min-1 Driven-tool speed (Upper / Lower)
15/11kW + 11/7.5kW L/R spindle motor
5.5/3.7kWx3 Driven-tool motor (Upper / Lower)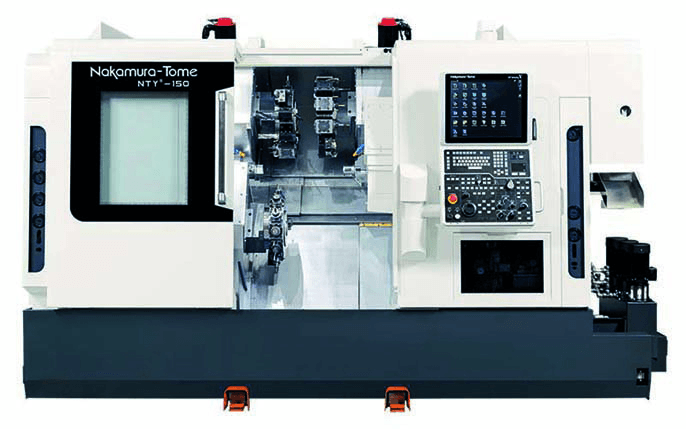 SV-38R Type B
STAR
The SV-38R combines the fast processing ability of a traditional platen type sliding head lathe with the flexibility of a turret machine. 
Standard machining diameter 38mm (42mm in NGB mode)
Z1 Stroke of 350mm in Swiss mode, 95mm in non-guide bush mode
Z3 axis enables SUPER-POSITION control for increased overlap
Switchable between guide bush and non-guide bush modes
Main spindle speed 7,000 rpm, sub-spindle speed 7,000 rpm
Built-in type main and sub-spindle motors for improved indexing accuracy
Programmable B axis for angular machining
STAR MOTION CONTROL to minimize idle time
8 Station sub-spindle platen for maximum overlapping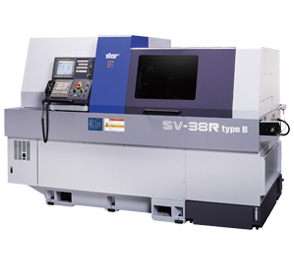 FMB TURBO 5-65
STAR
The FMB Turbo 5-65 magazine bar feeder suits bars diameters 5mm up to 65mm.
Easy to operate with removable pendant
Simple start up routine
Fast bar reload routine – bar change time 26 secs
Suitable for round or profiled material
Simple capacity set (guide channel) change over
Optional capacity sets: 10, 15, 20, 25, 28, 32, 36, 40, 44, 50, 55, 60, 65